Gyms Near Dartford
Are you looking for gyms near Dartford? At Clock Tower Gym in Dartford we make your work outs fun! With our excellent cardio and weight training equipment to our skilled personal trainers we offer work outs suited to all your needs. If you are looking to tone up and build your muscle memory then why not come on down and our expert team will guide you on the ideal workout perfect for your body goals. If weight training isn't for you we offer a wide range of classes and cardio training to get your heart pumping.
Why Choose Gyms Near Dartford?
Wide Range of Classes
Quality Training Equipment
Free Weights
Qulified & Insured PT's
Newtwork between other gym memebers on our Members App
Here at the Clock Tower Gym we offer a wide range of high intense training classes and facilities. Whatever your body or fitness goal, we have a training program to suit everyone. Join The Clock Tower Gym today to start your fitness journey.
Call us today about our Memberships or why not check out our fitness class timetable.
Gym Floor
High-tech 27 piece matrix gym equipment.
Free Weights
A wide range of Olympic bars, squat racks, deadlift platforms and two sets of dumbbells up to 60kg.
Mixed Cardio Studio
Offering a selection of treadmills, cross trainers, steppers, bikes and rowers.
Stretching Studio
Stretching Studio
Boxing Studio
Consists of four assaulted punch bags and various speed-balls.
Functional Fitness Studio
Functional Fitness Studio
Equipped with ply boxes, kettlebells, TRX's and a fortress rig.
Ladies Only Studio
Has a rower, treadmill, cross trainer, bike, full set of dumbbells, barbells and two vibe plates.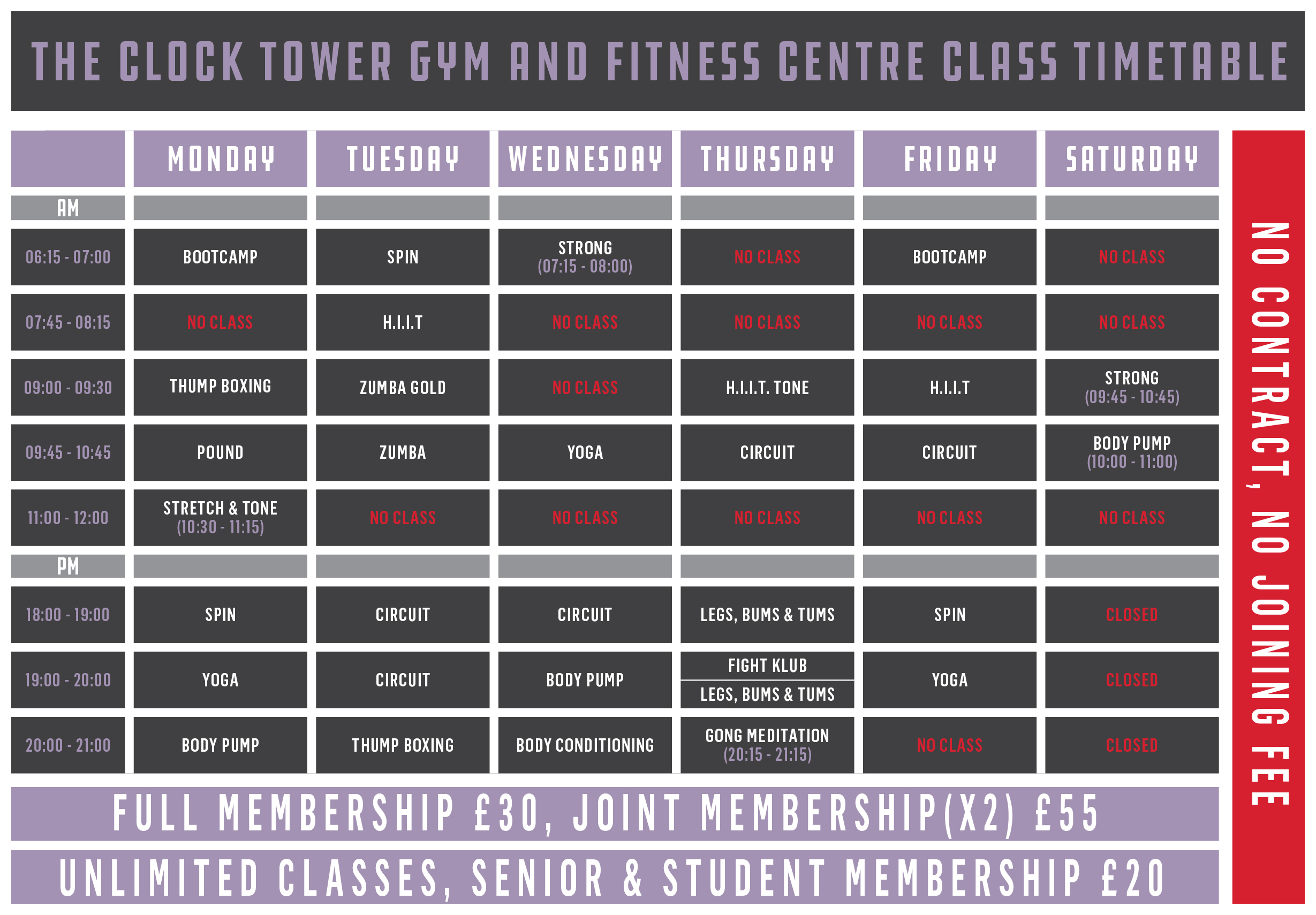 CLOCK TOWER GYM
Members are free to book classes 7 days in advance, non-members 6 days in advance.