Yoga Dartford
Looking for yoga near Dartford?
Clock Tower Gym offer an excellent Yoga service for our Yoga lovers in Dartford. Our Yogo Dartford class is ideal for those who want to take control of their inner selves as well as improve flexibilty. With our expert Yoga instructors, we will stretch your muscles, improve your range of motion, and improve your overall health. Whether you are a beginner or an expert, we offer a comprehensive class that will cater to all. So, don't worry if you're not a pro! Yoga is a practise anyone can get involved with. Additionally, there are physical and mental advantages you can gain by including some yoga into your fitness plan. Regardless of whether it is your main exercise.
Gym Floor
High-tech 27 piece matrix gym equipment.
Free Weights
A wide range of Olympic bars, squat racks, deadlift platforms and two sets of dumbbells up to 60kg.
Mixed Cardio Studio
Offering a selection of treadmills, cross trainers, steppers, bikes and rowers.
Stretching Studio
Stretching Studio
Boxing Studio
Consists of four assaulted punch bags and various speed-balls.
Functional Fitness Studio
Functional Fitness Studio
Equipped with ply boxes, kettlebells, TRX's and a fortress rig.
Ladies Only Studio
Has a rower, treadmill, cross trainer, bike, full set of dumbbells, barbells and two vibe plates.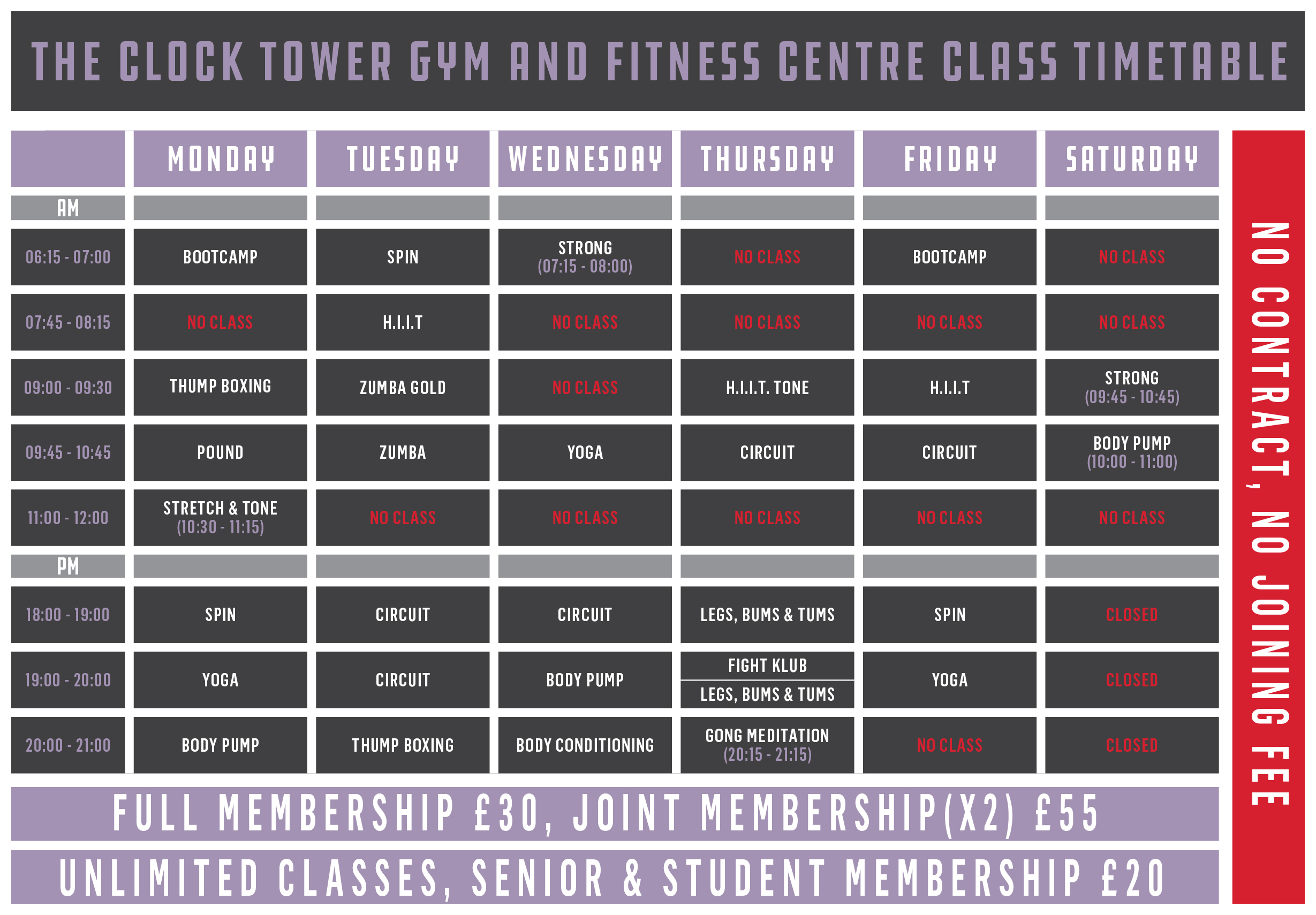 CLOCK TOWER GYM
Members are free to book classes 7 days in advance, non-members 6 days in advance.