CLOCKTOWER OPENING TIMES
| | |
| --- | --- |
| Monday - Friday | 6:00am - 10:00pm |
| Saturday - Sunday | 8:00am - 4:00pm |
| Any Bank Holidays | 8:00am - 4:00pm |
STUDIOS
Gym Floor
Top quality fully equipped 30 piece Matrix strength equipment and plate loaded equipment.
Free Weights
A wide range of Olympic bars, squat racks, deadlift platforms and two sets of dumbbells up to 70kg.
Cardio Zone 1
Offering a selection of treadmills, cross trainers, steppers, bikes and rowers.
Cardio Zone 2
Consists of four assaulted punch bags and various speed-balls. Gloves and pads supplied. *Due to Covid, no gloves or pads can currently be loaned from the gym*
Stretching Zone
Equipped with foam rollers, rumble rollers, massage balls and stretching/resistant bands.
Functional Fitness Zone
Equipped with plyo boxes, powerwave bags, kettlebells, slam balls, TRX's and a fortress rig.
The Clock Tower Clinic
The Clock Tower Clinic has four treatment rooms and offers male and female sports injury therapists, osteopathy, a chiropodist, a beautician and counselor.
Ladies Only Zone
Equipped with a full range of cardio equipment consisting of a rower, treadmill, cross-trainer and bike. Also offering a full range of dumbbell, kettle-bells and barbells.
Shop
Fully stocked with all your supplement needs. Stocked with various protein powders, BCA's, EAA's, and energy drinks.

Classes Studio 1
Spin studio
Classes Studio 2
Yoga studio
Classes Studio 3
Classes studio
Changing Zones
Mens and Womens changing zones available.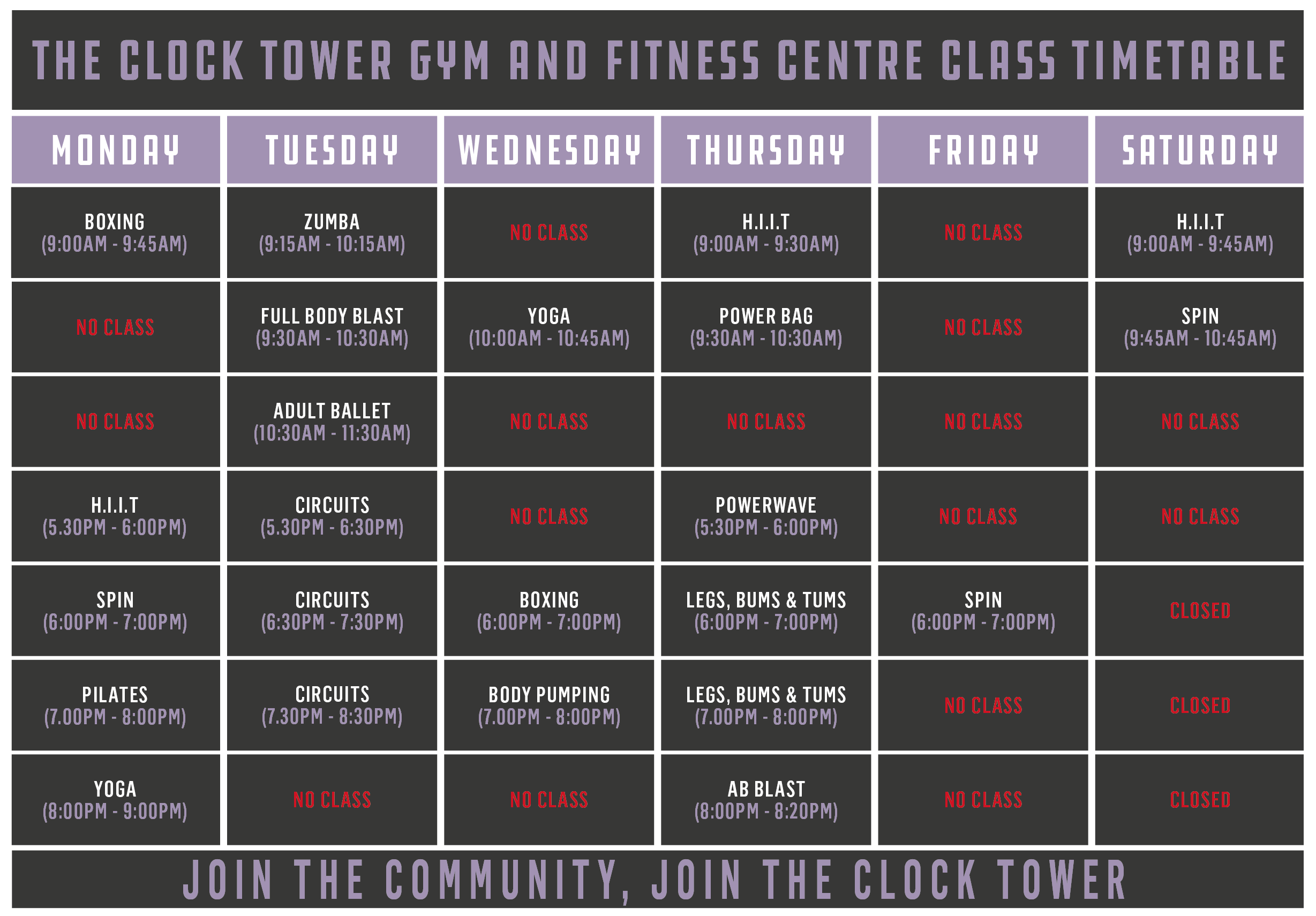 THE CLOCK TOWER GYM
Members are free to book classes 7 days in advance, non-members 6 days in advance.